Control Zone
Hey Boomers!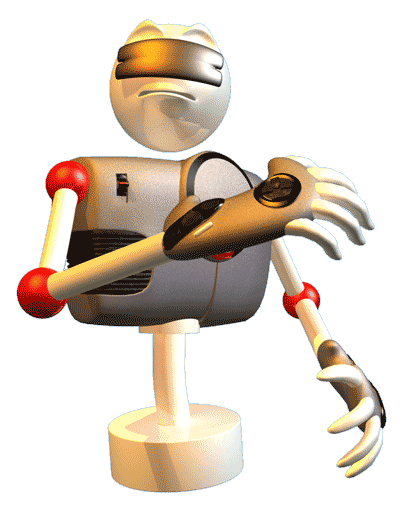 Well, Boomers, there goes the sun (doot'n doodo). And I say it's alright, because Sonic The Comic is here to shine all the same! This issue sees four stories including three tales of- urm- Tails! The Hero of Mobius (or should that be Acting Hero of Mobius?) has his work cut out for him as he faces an assault from all fronts, new and old.
Summer may have drawn to a close but so too must STC's biggest event of 2015 as
Unleashed
reaches its thrilling climax! As Super Sonic's power amasses and reaches critical levels, it's going to take every hero Mobius has to offer to do their part to save the day. Fortunately, that's exactly who we have standing between the demon of destruction and Mobius' annihilation!
Assuming we're still around after that rampage, Tails has to meet a whole bunch of new heroes. First, he has a run-in with one Marine the Raccoon in a
Small-Screen Scream
! After that, Tails teams up with Holly to come face to face with a
War Machine
!
And as if that wasn't good enough for you (some folks are so ungrateful),
Amy
takes the centre stage in a story of her own that is sure to knock your socks off! Oh and my good friend Omni-Viewer has put together a
Flashback Zone
for you all and we have the usual lovely selection of
wallpapers
.
Hey, just a quick thought, you lot, have you joined us on
Facebook
? We've had loads of great photos to show from the recent York Comic Con- you won't believe some of the famous faces who enjoyed reading our comic!
Unleashed might be concluding this issue, Boomers, but as we now race in earnest towards the
astonishing, Mobius-shattering issue #275
, the action shows no sign of slowing down.

The wait is finally over! After a long hiatus of being off our airwaves...oh, I'm too excited! I'll just let Boomerang's wicked advert break the news:
"The worlds fastest hedgehog has arrived!"
We kid you not, Boomers, Sonic is back on your TV! And he and his friends are bringing the BOOM! Based on the world seen in the recent duo of games (which you can play now on your Wii U and 3DS or 2DS!) "Sonic Boom" see's our favourite blue hero on new high-speed adventures as they protect Bygone Island from the evil genius we've all come to know and hate (unless of course you're only familiar with the Robotnik who's been terrifying us right here in the pages of StC of course)!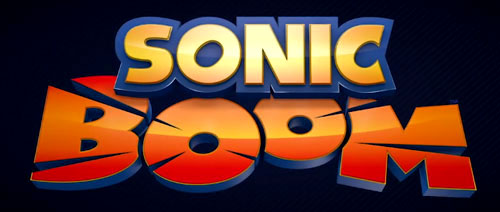 Whenever Dr. Rob-oop, sorry force of habit! When Dr. Eggman and his fearsom horde of robots threaten the peace and tranquility, you can count on Sonic and his best buddies to jump into action, with speed, brains, brawn, and brand new looks to boot!
Need sports tape? Lots of it? They got it!
But fear not if you're feeling too overwhelmed by all this newness: Sonic's oldest friends you all know and love are here for the ride too: Tails is still on hand to lend out his technical prowess. Sonic's leading lady Amy Rose is also bringing her own special brand of girl power to the fight, with a feisty attitude and a giant hammer you better not be on the wrong end of when it comes down! And Knuckles, who...WHOA, big red's been hitting the gym! Our favourite echidna is barely recognisable above those raging muscles he's built up! Good on ya matey!
Together, our team of heroes-
"AREN'T YOU FORGETTING SOMEONE?!"
Oh yes! I do apologise! Sonic also has a brand-new friend on his team! She's wild! She's got a fondness for boomerangs! (And she's a bit of a nutcase!) Sticks the Badg-
"I HEARD THAT! Why does everybody say that?! It's YOU isn't it?! I should've known!"
...your shadow?
"This shape-shifting ground monster has been spreading lies about me for years! All this time it's been following me, plotting to kill me and take over my life!"
...that's very fascinating, Sticks. *ahem* Anyway, be sure to catch Sonic Boom everyday on Boomerang! (Sorry Freeview people, we'll keep you posted if one of your favourite channels begins airing it!) Check your TV listings for the times you can tune in!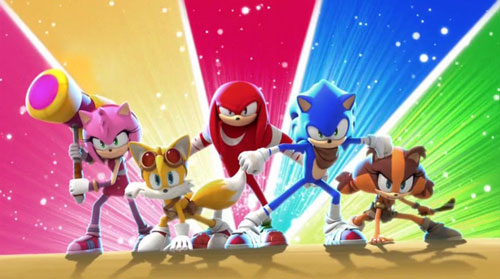 "So can I be in an STC strip sometime?"

That depends if you promise not to hurt me. You've been looking at me kind of funny and it's making me uncomfortable...

"That's because I'm on to you, buddy!"

You're on to me...?

"I know your word-scribblers and picture-makers have been tricked into using mind-controlling pencils! You're not gonna lead a robot uprising over parliament on MY watch!"

Right...