Hey Boomers!
This is it – THIS IS NOT A DRILL! After 25 years since its first publication, 15 years and 1125 pages of STC Online, and probably more cups of tea than the Humes-who-think-they're-in-charge would care to admit, Sonic The Comic reaches the amazing milestone of 275 issues!
Another landmark issue deserves another epic story to celebrate, and issue #275 aims to deliver just that with STC's biggest tale to date! The Battle For Drak is a 32-page extravaganza and the culmination of some long-running storylines over the last 52 issues of STC Online!
This issue is both a celebration of the terrific talent that's been involved in the comic over the years and a chance to showcase almost all of the brilliant cast of characters that got us to this point – we hope it was worth the wait!
#275 is also when we take the time to say goodbye to long-time head hume Michael Corker, who is sadly stepping down with this, his last issue. Michael wrote this issue's main story and had the mammoth task of organizing all the many contributing artists and collaborators, as well as finding the time in his busy schedule to put this amazing issue together! The whole team wish him a well-deserved retirement and every success with whatever is in store for him next (probably a nice long lie down if he's got any common sense!).
Michael has been many things over the years since STC Online's very first release with issue #224 way back in 2003. He's been a writer, an artist, a letterer, a designer, a webmaster and a code monkey extraordinaire (and personal thanks for all those upgrades!). Most importantly, he's been a friend, cheerleader, and supporter of Sonic the Comic and all the amazing and talented people who have worked on this project over the years. It's no understatement to say that none of this would be possible without his tireless work on the comic, both behind the scenes and on the page!
However, if you thought all of this meant the end of the story, you'd be quite mistaken…
#275 has one more special surprise to share with you and has it got some absolute Superstar talent involved! As a parting gift, Michael has teamed up with STC alumni Nigel Kitching and Nigel Dobbyn on the cryptically titled Exit: Sonic and you'll definitely not want to miss this tantalising new tale!
And look out for more from Sonic the Comic this weekend! We're hosting the STC25 fan event in Manchester on Sunday 2nd June! Filled to the rafters with some amazing guests, past and present humes, and of course the fans who've made this whole thing possible! We hope everyone has an amazing time and I'll try not to be too offended that my invite seems to have gotten lost in the post!
Do excuse me, I um.. think there's a little something in my oil duct…

STC25 is a day-long celebration of the UK's Sonic the Comic and its online continuation: Sonic the Comic Online this June in Manchester, UK!
With special guests including Nigel Kitching, Nigel Dobbyn, Carl Flint, Ferran Rodriguez, Richard Elson, and for the first time ever at a Sonic event – Lew Stringer, STC25 is bound to be an incredible day!
For more updates, visit our Facebook event page.
Matt Dittmer | 1988-2018
The STC family suffered a terrible blow this year. Dedicated Art Hume and our dear friend Matt Dittmer unexpectedly passed away.
Matt was a tremendous driving force behind the scenes at STC Towers, and he had selflessly dedicated his everyday life to working with young people.
Our thoughts and deepest condolences are with his family and countless other friends. He will be sorely missed.
We invite everyone to pay tribute, if they wish, by donating, at the request of the family, to Birmingham Queen Elizabeth Hospital's Fund for a Mobile CT Scanner here: https://www.qehb.org/mobile-ct-scanner
Please message us if you donate so we can let the family know how much was raised by STC fans.
Amy Rose was Matt's favourite character and so a number of the STC team past and present have created some special Amy art dedicated to Matt and we are showcasing some of these tributes below: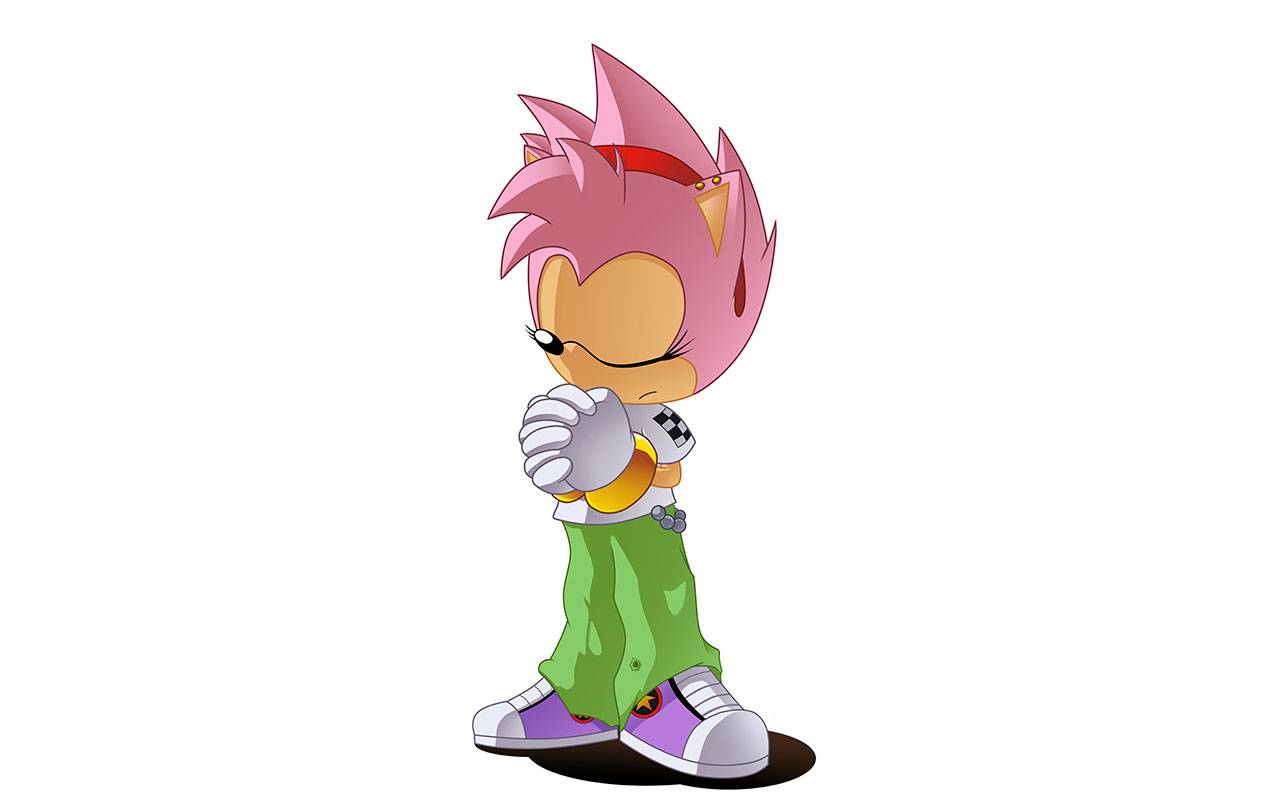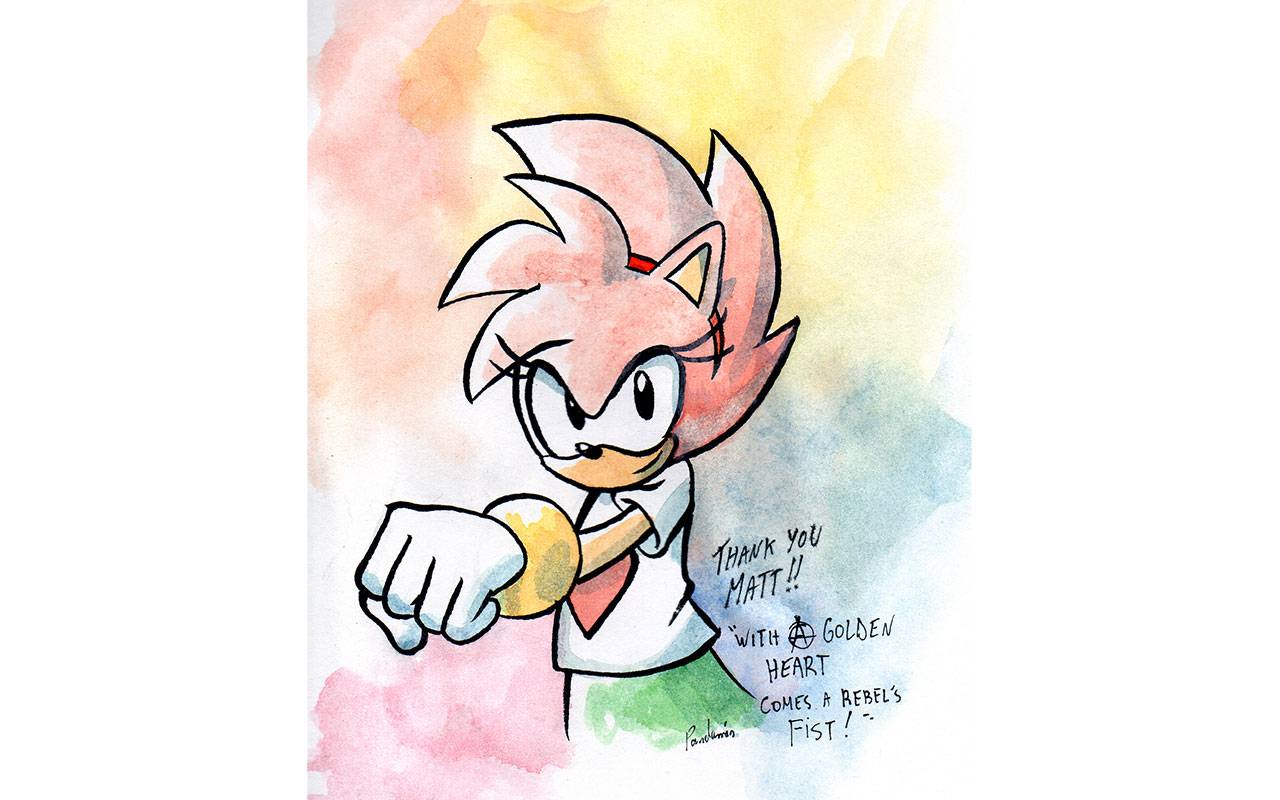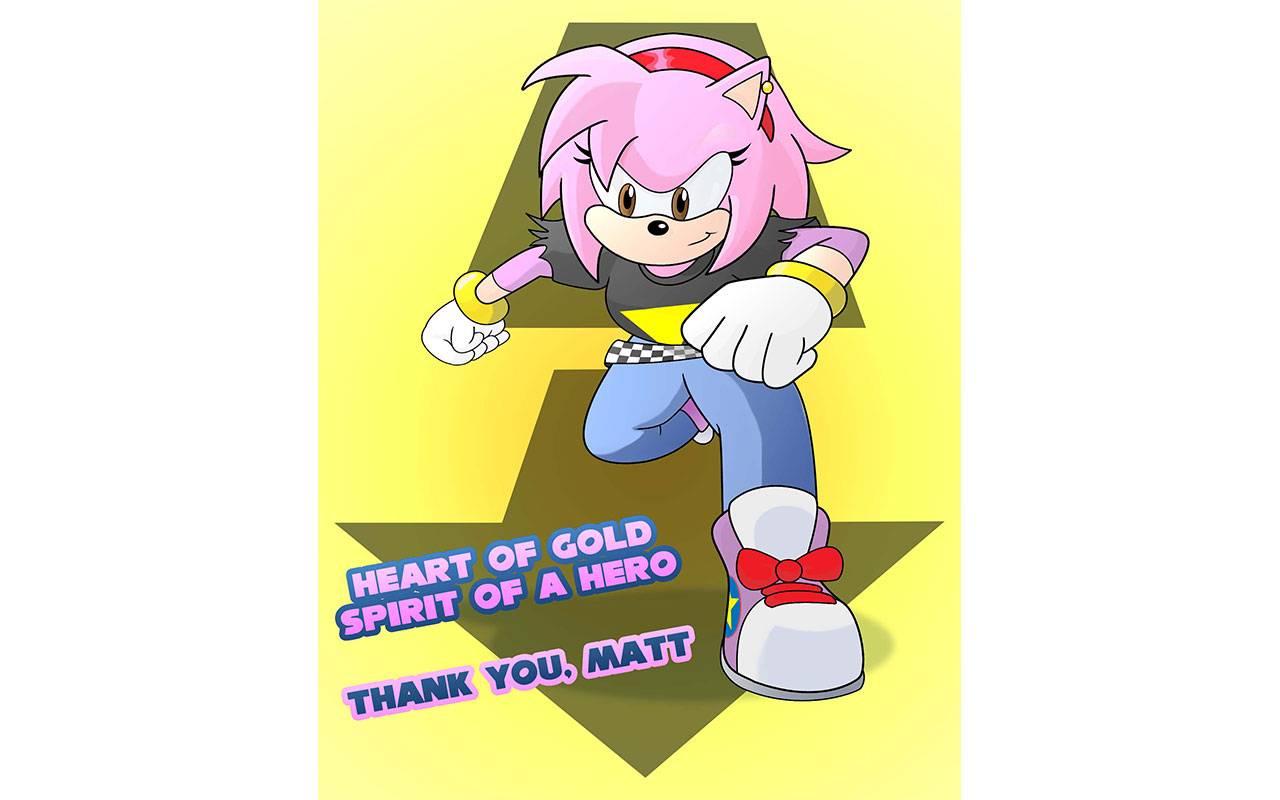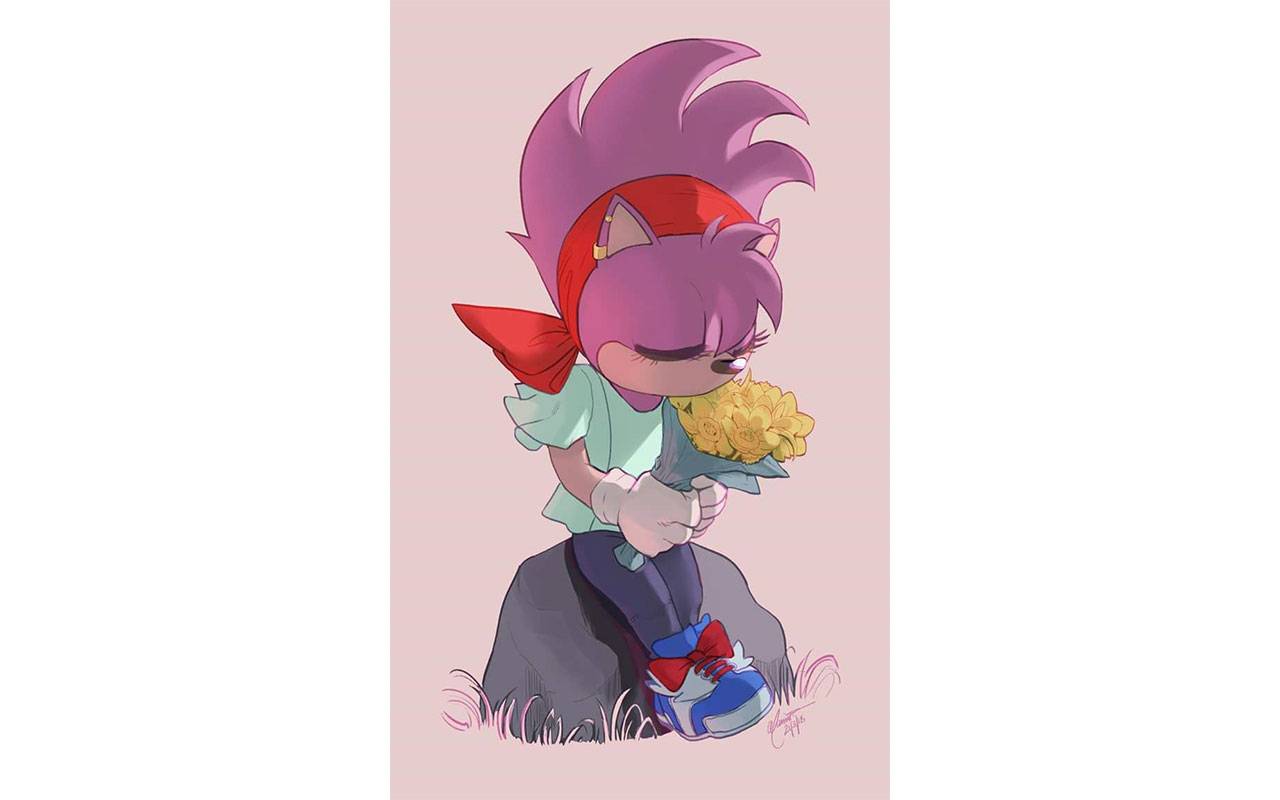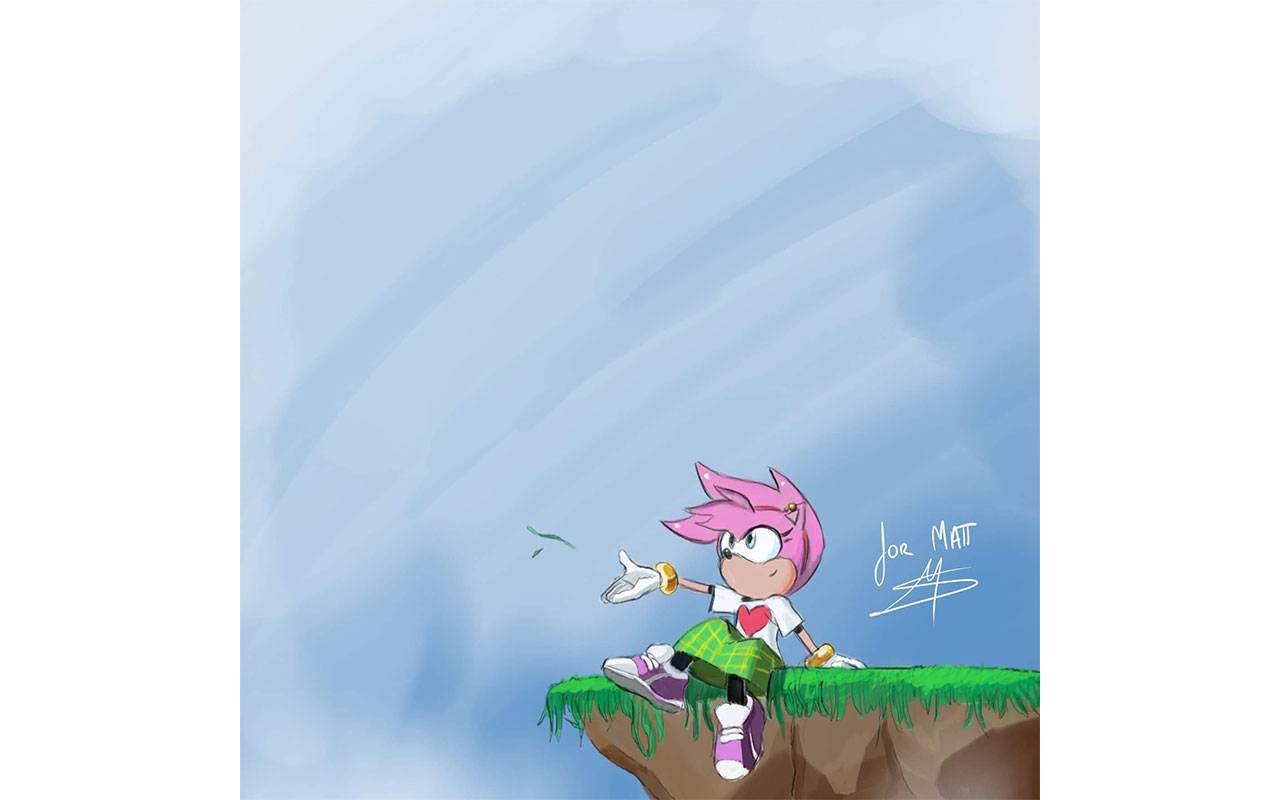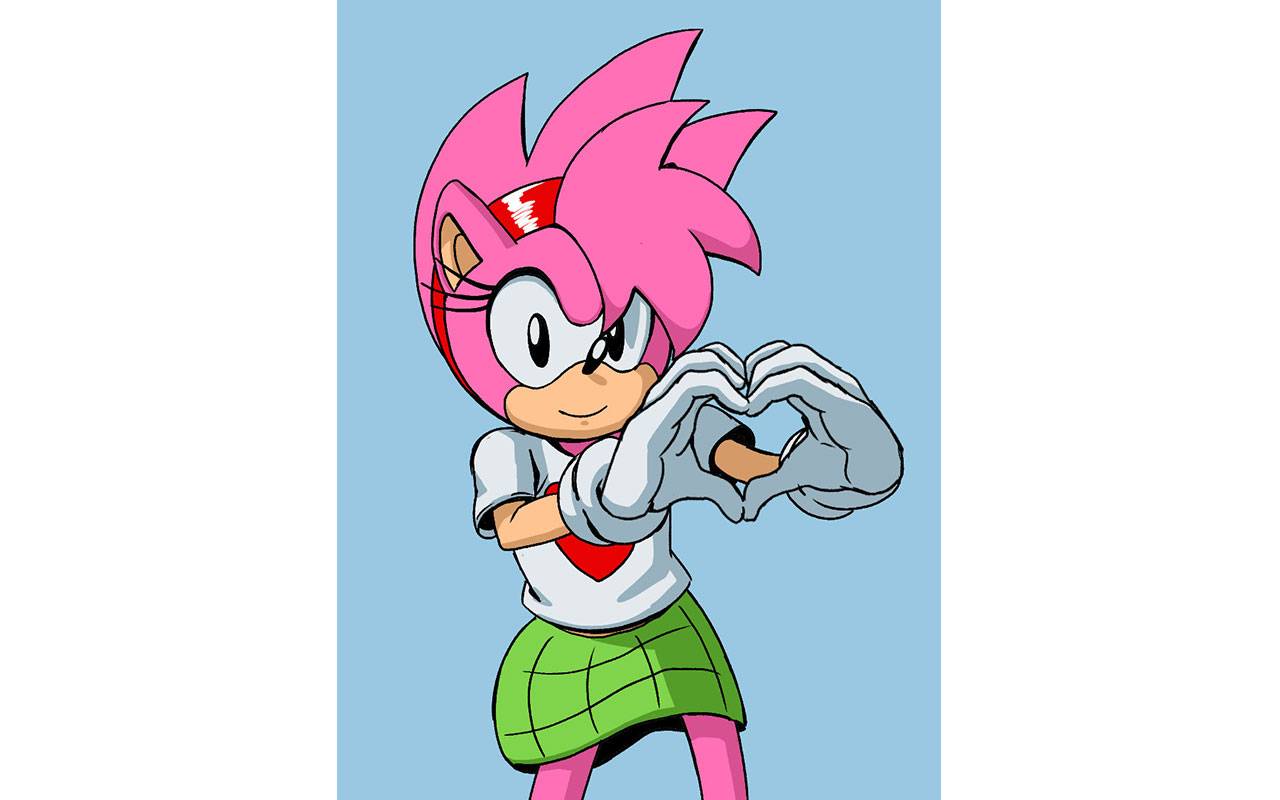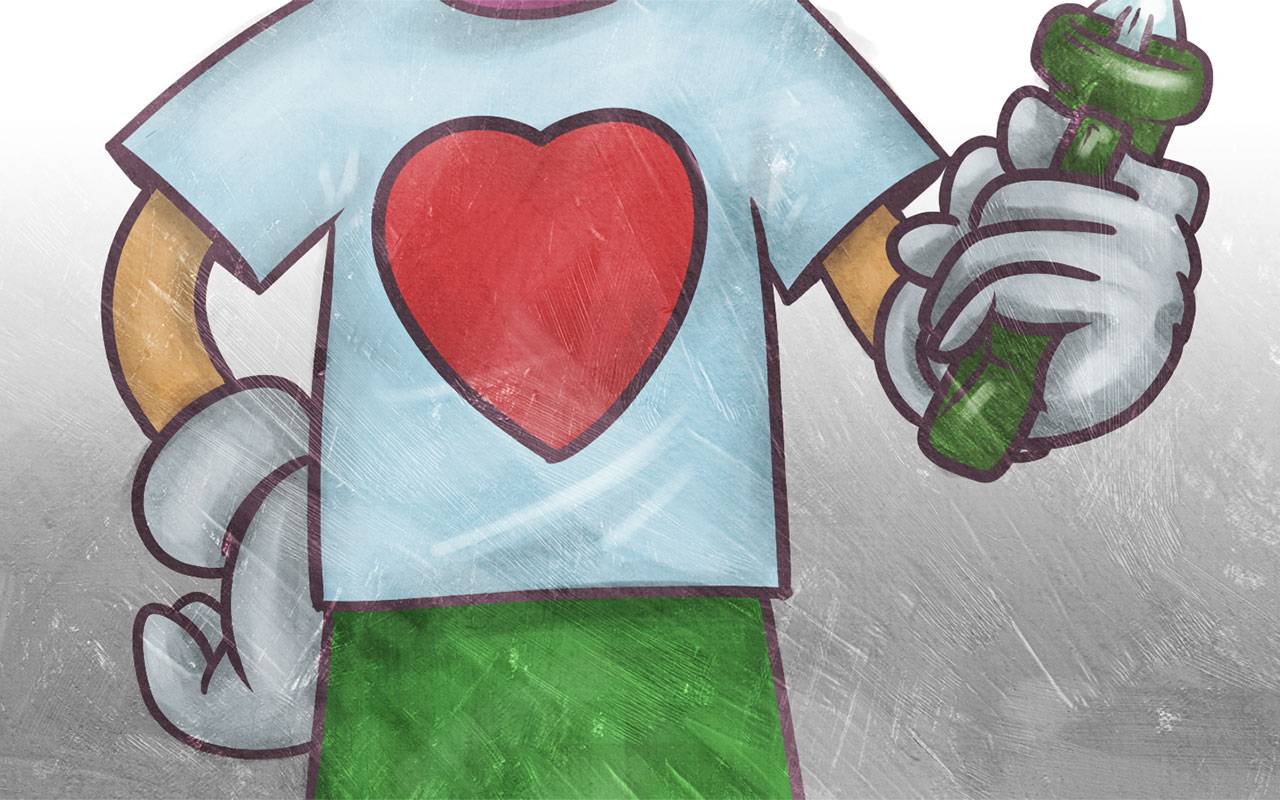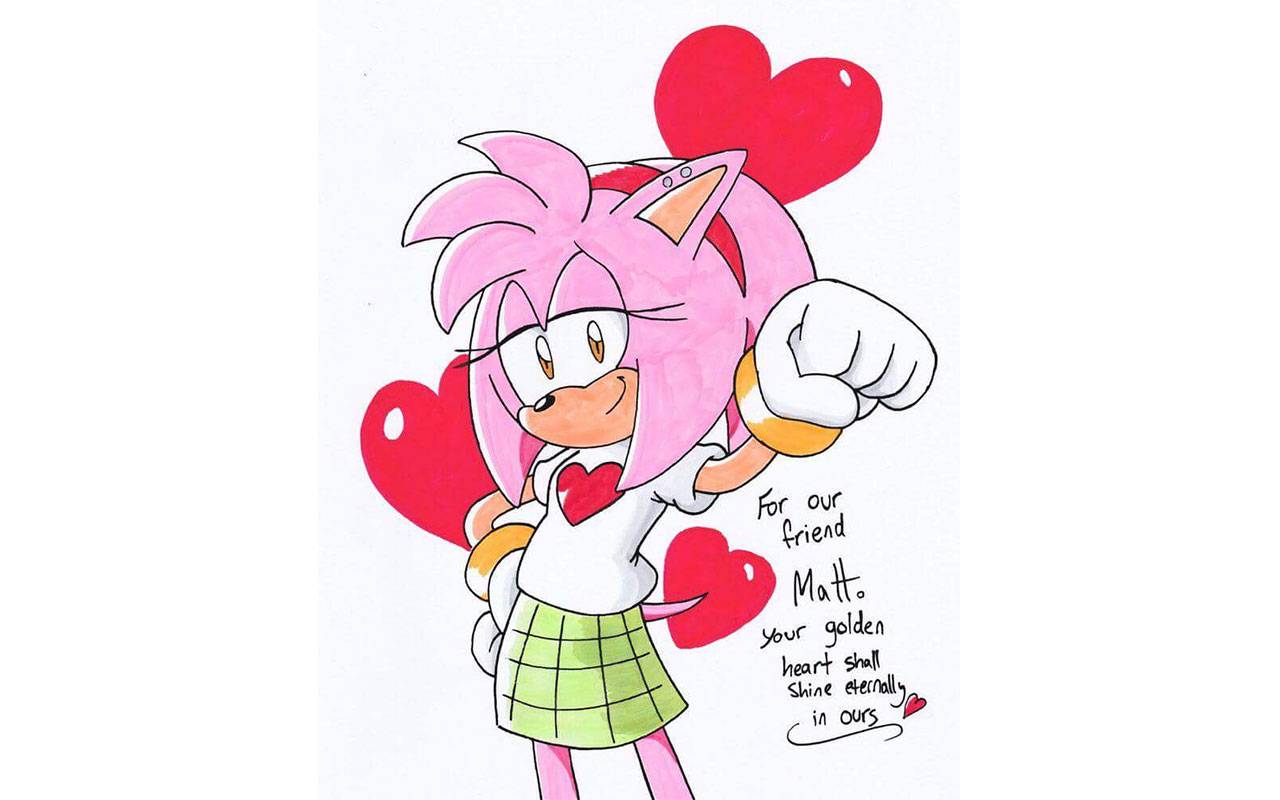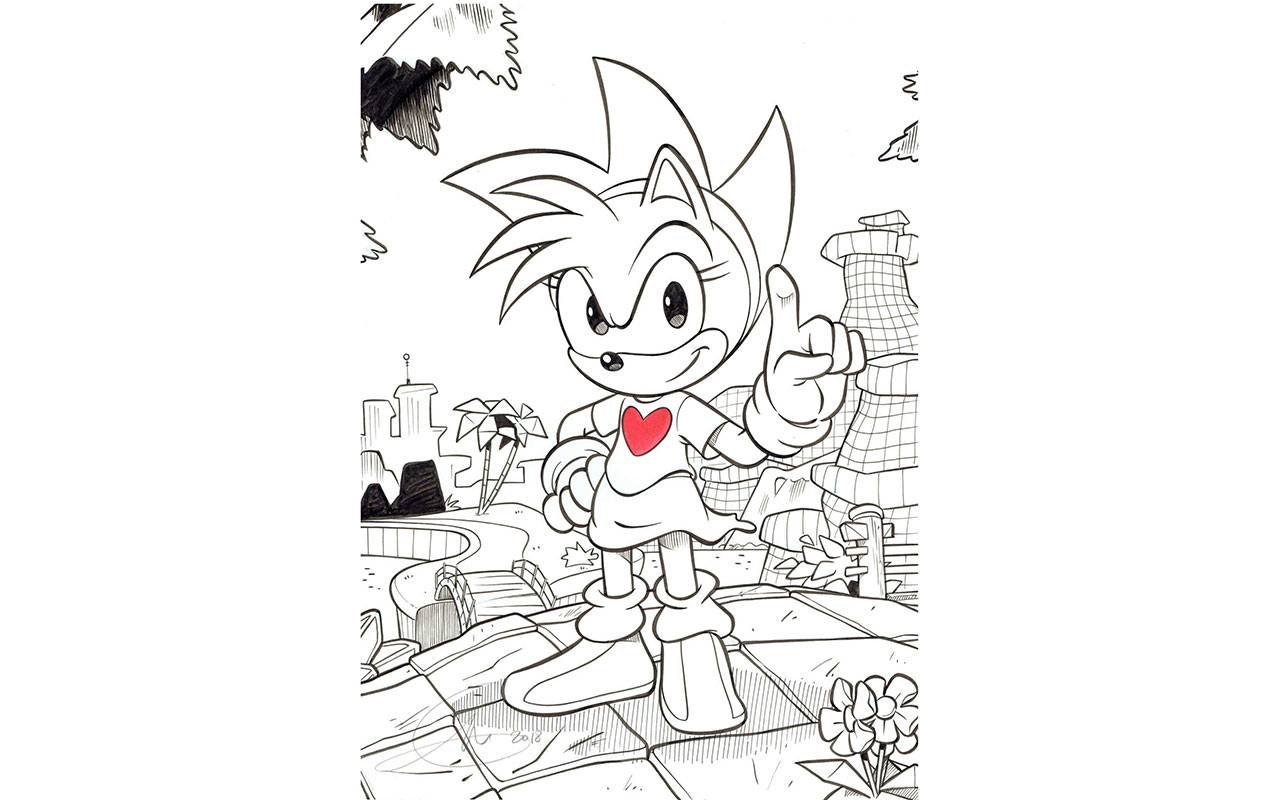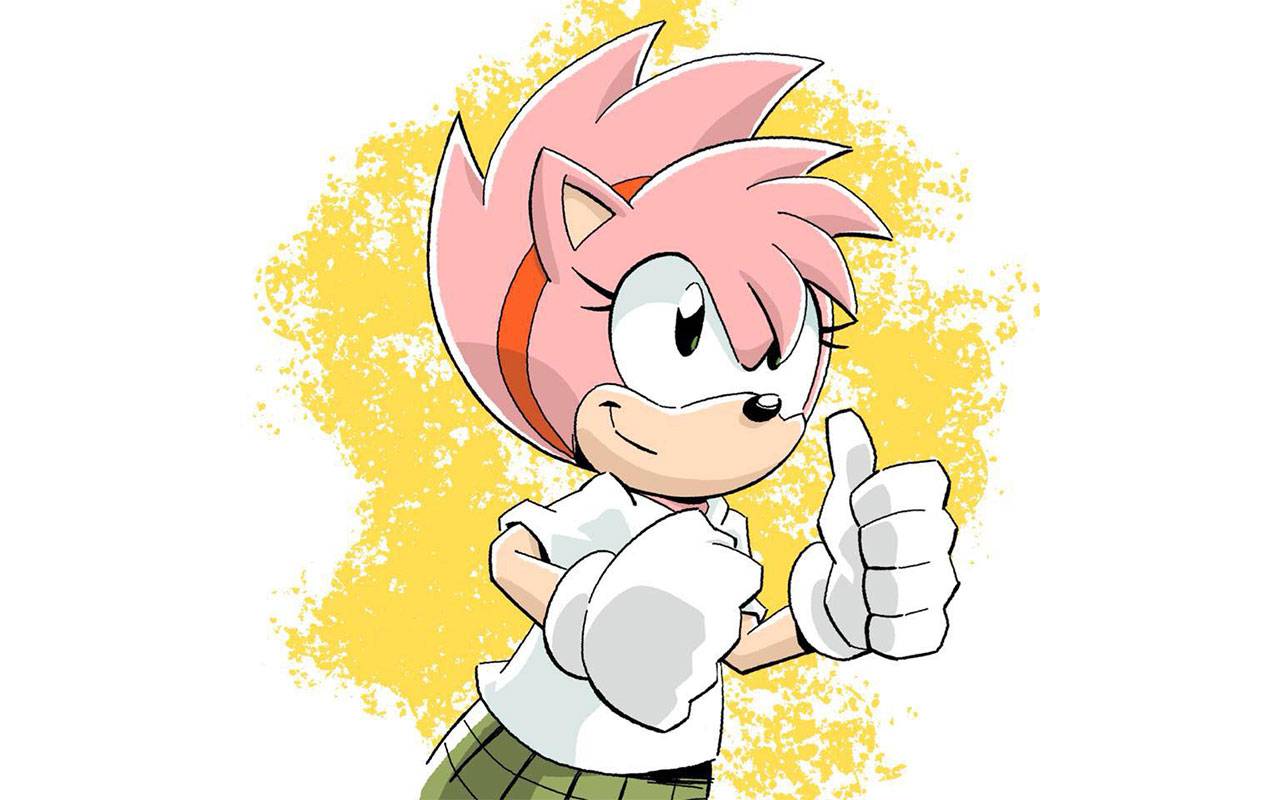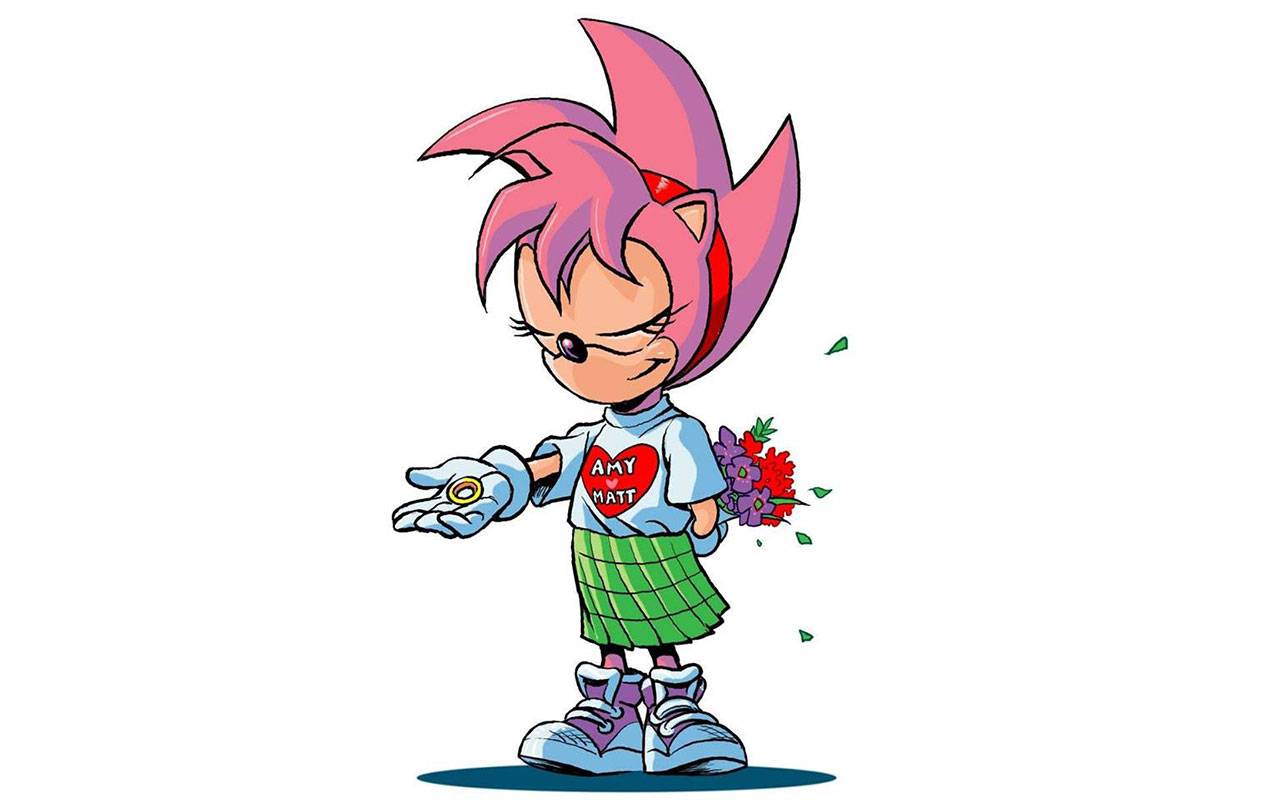 The Story So Far…

Sonic the Hedgehog and the other Heroes of Mobius stand united to protect the planet from the approaching threat of the Drakon Empire – Now, at long last, The War of Mobius is about to reach its epic conclusion…

Sonic
Blue blur Sonic is the numero-uno hedgehog with attitude, boasting both lightning fast speed and wisecracks for every situation. He's been on the run ever since the War of Mobius began, but his long journey to defeat the Drakons isn't quite over yet…

Tails
High flyer Tails has reluctantly found himself leading the other Heroes of Mobius whilst Sonic has been out of the spotlight, but now that his best buddy is firmly back on the scene, Tails is more determined than ever to clear the good name of Sonic the Hedgehog!

Amy Rose
Amazing Amy is currently M.I.A, lost when the Miracle Planet vanished without a trace! Nobody knows where either the plucky pink hedgehog, her team of G.U.N soldiers that she was leading, or the kids evacuated from the war that they were protecting could have disappeared to!
See the rest of the Data Zone! (click here)

Knuckles
Stoic Guardian of the ancient echidna's Floating Island, Knuckles protects the powerful Chaos Emeralds, which the Drakon Empire are keen to get their hands on in order to expand their control of the galaxy!

The Kintobor Computer
A digital backup of kindly scientist Dr Kintobor, from before the accident that transformed him into the evil Robotnik! Located deep within the Freedom Fighter's secret base, this super smart program helps to coordinate all the various teams and heroes of Mobius!

Silver
Telekinetic time traveller Silver is a hedgehog with the power to move objects with his mind and a mission to protect Mobius from his own "bad future" coming to pass!

Shadow
Gruff and tough, Shadow the Hedgehog was a living computer program who protected cyberspace from Robotnik's threats in the past, but now this digital defender has found his way into the real world!

The Ultimax
Upbeat Holly and refined Theo are alumni from the now disbanded Ultimax team – Now they've joined up with the other Heroes of Mobius in order to help save the world once again!

Shortfuse
Short-tempered Shorty the Squirrel defends Mobius as his heroic alter-ego "Shortfuse" in a suit of armour made from broken badniks, now with support from Tekno, Niya and the rest of his scrappy group, The Cybernix!

Niya the Gorilla
Guerilla warrior Niya is a passionate primate who works with Shortfuse and The Cybernix gang, salvaging scrap to build new technology – her solution to most problems? Hit it with a spanner!

Tekno
Gadget guru Tekno is the clever canary with an invention for every occasion! Finally friends again with Shortfuse after their long-running feud, she's now helping Niya with upgrades to the rest of the rag-tag Cybernix team and their equipment!

Chaotix
A quirky team of heroes originally from the Special Zone before it was destroyed! Clever Vector, super-strong Mighty, stealthy Espio, barmy Charmy, and the time and space warping Omni-Viewer work together (mostly) to protect the crazier corners of Mobius!

Porker Lewis
Nervous genius Porker quit the Freedom Fighters for a quiet life on the Floating Island, but his expertise on ancient echidna technology frequently finds him drawn back into danger!

Tikal
Mystic echidna Tikal was transported from the ancient past to modern day Mobius and has since used her magical gifts to help Knuckles and Porker discover some of the secrets of the echidna race!

The Drakon Empire
Evil aliens with a secret scheme for conquest! While Emperor Brokken from the House of War thinks he's in charge of the war's progress, Master Scholar from the House of Knowledge and Sister Haggra from the House of Magic are the real threats to Mobius!

The Drakon Resistance
Disruptive Drakons Phi, Dax, and Etsu lead a small but growing band of resistance forces fighting against the regime on planet Drak – They were inspired by Sonic's own well-documented exploits against the Drakon leaders on their homeworld!

Super Sonic
The supercharged alter-ego of the usually cool blue one! Having had the demonic entity seemingly purged from him once and for all, there's no telling what will happen the next time Sonic is exposed to an intense situation – nothing is certain where chaos energy is concerned!

Percival Kane
Greedy media mogul Kane destroyed Sonic's reputation simply to boost ratings on his KBC news network! His power over the airwaves is seemingly unstoppable, so can anything stop the big bad wolf?

Rouge the Bat
A sneaky spy whose only loyalty is to whoever is paying the bills at any given moment… Right now, however, she's found herself out of a job, having just been double-crossed by the Drakons!

Robotnik
Dastardly Doctor Robotnik vanished without a trace after the epic conclusion to the Battle Of Emerald Hill! However, thanks to his time connected to the Drakon's supercomputer, small fragments of his digital consciousness can still be found lurking out in cyberspace…
Full Credits for 'The Battle for Drak'
Story:
B/W Art:
Jean-François "Adamis" Thébé – Page 1, 2 (bottom half), 3, 4, 17, 32(top half)
Matt Dittmer – Page 2 (top half)
Marcus Stockley – Page 5, 8 (bottom half), 13, 19 (bottom half)
Ernest Panda – Page 7, 8, 12, 16, 30, 31
Michael Corker – Page 8 (top half), 9, 15 (top half), 18 (top half), 19 (top half), 21, 32 (bottom half)
James "DarkNoise" Kennedy – Page 10-11, 14
Pete Murphy – Page 15 (bottom half), 22, 23, 24
Chris Gould – Page 18 (bottom half)
Reggie "Ziggyfin" Graham – Page 20 (top half)
Matthew Bramble – Page 20 (bottom half)
Zak Simmonds-Hurn – Page 25-26
Mauro "The KKM" Fonseca – Page 27, 28, 29
Colours:
Pete Murphy – Page 2, 3, 4, 15 (bottom half), 22, 23, 24, 32 (top half)
Claire "MamboCat" Ryan – Page 1, 12 (shading), 16 (shading), 30, 31 (shading)
Matt Dittmer – Page 2 (top half)
Marcus Stockley – Page 5, 8 (bottom half), 13, 19 (top half shading), 19 (bottom half), 28
Michael "Stiv" Stephenson – Page 6, 7, 10-11
Michael Corker – Page 8 (top half flats), 9 (flats), 14, 15 (top half flats), 18 (top half flats), 19 (top half flats), 21, 32 (bottom half)
Chris Gould – Page 8 (top half shading), 9 (shading), 15 (top half shading), 18 (top half shading), 18 (bottom half)
Tom Campbell – Page 12 (flats), 16 (flats), 31 (flats)
Seumidh MacDonald – Page 17
Reggie "Ziggyfin" Graham – Page 20 (top half)
Matthew Bramble – Page 20 (bottom half)
Zak Simmonds-Hurn – Page 25-26
Mauro "The KKM" Fonseca with Rik Mack – Page 27, 29
Letters: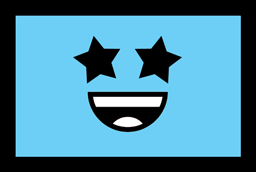 Goodness me, Boomers! Have you ever seen a story like that one?! What an issue of STC this has turned out to be! Now was that worth the wait or what?!
But, you know, it's not the first big celebration that's been a long time coming. Nor is it the first full-issue story the comic has seen. No, for that honour we have to go back a little bit… fortunately, I happen to be able to time travel. Buckle up, Boomers, it's a lengthy one!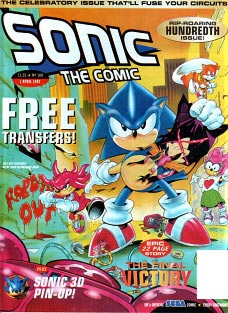 STC #100: The Final Victory
Script: Nigel Kitching & Lew Stringer
Art: Richard Elson, Nigel Dobbyn, Roberto Corona, John Burns, Nigel Kitching
Lettering: Tom Frame, Elitta Fell, Gordon Robson
Flashback Zone Report Filed by: L. T. Fletcher
Added to Omni Viewer's Data Banks by: Michael Corker
Hey, look, it's me! No, not the crocodile. No, not the one with the monocle. No, not Sonic! The handsome one! Let me bring you up to speed, so to speak. Monocle man is Lord Sidewinder, a feared supercriminal in the Special Zone. You'll remember Sonic and Super Sonic were separated into two forms- well, Sidewinder hoped to rule the Special Zone with Super Sonic at his side. That went about as well as could be expected. So Sonic had the bright idea of asking me to freeze Super Sonic in time… inside me! Some thanks I get for all the help I do. Well, the end result is Sonic was trapped in the Special Zone so he spent some time with the Chaotix Crew. Meanwhile, I'd been unable to freeze time completely, but I was able to slow time to a tiny fraction of its usual speed. As soon as Sonic and Chaotix figured out Super Sonic was very slowly making his way to freedom, they put me inside the Black Asteroid. Charming!
Well, at any rate, I was able to teleport to safety at the moment Super Sonic broke free of my control. At Sonic's instruction, I teleported the entire Black Asteroid to the skies above the Metropolis Zone, just as Super Sonic detonated it with a burst of enormous energy from within!
Sonic explained his reasoning- Vector's scientific friends at Equinox Labs had discovered the detonation of the asteroid would cause a planet-wide electromagnetic pulse, knocking out all electrical systems on the planet. Now, they expected it to affect Planet Meridian- but it was Mobius that got the blast!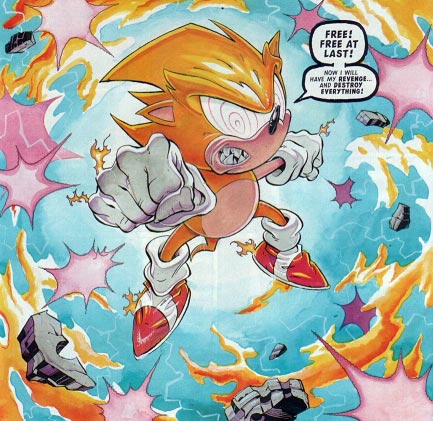 Meanwhile, Super Sonic had got himself free… and he wasn't very happy!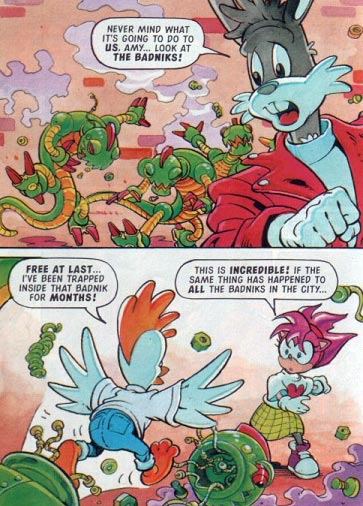 The electromagnetic pulse took immediate effect, destroying the Badniks that were terrorising Amy and Johnny while following orders from Robotnik lackey Vermin the Cybernik! Vermin, as a Cybernik, was down but not out while his backup systems rebooted, but the Badniks popped open, freeing their captives! At this moment, Sonic made his triumphant return to Mobius!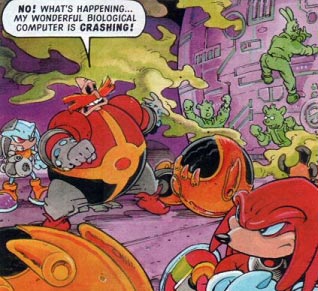 On the Floating Island, Robotnik's attempts to turn the Emerald Hill Folk into an enormous biological computer were thwarted by the electromagnetic pulse! While Robotnik tried to figure out the cause of the pulse, Knuckles realised this could be his chance to take the dictator down…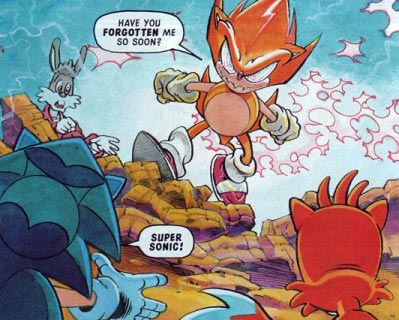 Back on the planet's surface, Sonic and his friends were pleased to find every Badnik they encountered was deactivated. Their joy was short-lived, however, as Super Sonic made his terrifying presence known!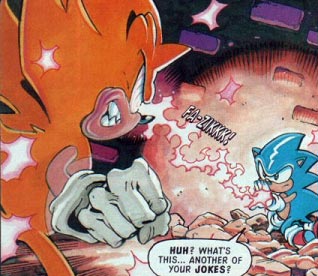 Initially toying with the heroes, Super Sonic pretended he wasn't cruel enough to kill them. His hubris, however, cost him as when he finally attempted to destroy Sonic with his eye lasers he could only manage a pitiful crackle of energy that barely tickled Sonic!

Super Sonic couldn't hold energy anymore! As I recall, the explosion had somehow changed Super Sonic- perhaps he'd used all his energy in the blast. It's not clear and maybe we'll never know. But Super Sonic stumbled away in a stupor as Sonic and his friends discussed what had happened. Satisfied that the greatest threat was dealt with, Sonic leapt into my gorgeous face and I transported him to the Floating Island…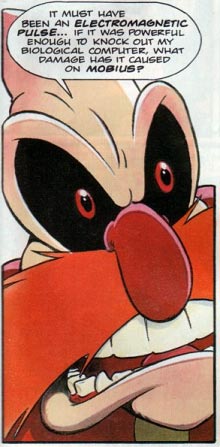 On the Floating Island, the situation was dawning on Robotnik. He realised that if his biological computer had been taken down, so too must all of his machines on the planet's surface! Trying to buy time, Robotnik instructed Doctor Zachary to call upon the Guardian Robots to attack Knuckles as they rely on ancient echidna technology and were not affected by the electromagnetic pulse.

Unfortunately for the two baddies, though, the modern technology Zachary used to control the Guardian Robots was knocked out! His weapons system apparently having manual control, however, Zachary took on Knuckles at Robotnik's command.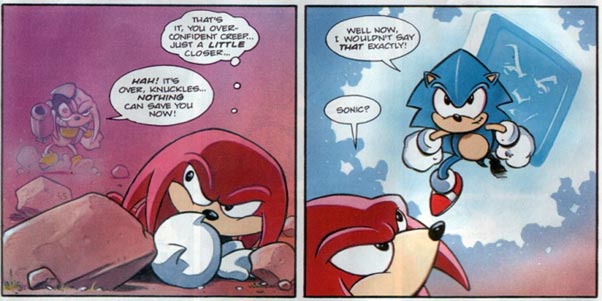 Thinking tactically, Knuckles feigned defeat in order to lure Zachary in closer- that's when I arrived with Sonic! Naturally, Sonic decided to use his speed to take Zachary out. Naturally, he then bragged about it. Naturally, he and Knuckles got into a big row. So predictable, those two.

As the boys continued their argument, Zachary tried to make his escape- not that Knuckles was going to allow that to happen, of course! Delivering an earth-shattering punch, Knuckles caused Zachary to slip into the ground, knocking him out for the count. Before they could get into another squabble, Sonic and Knuckles realised they had to stop Robotnik.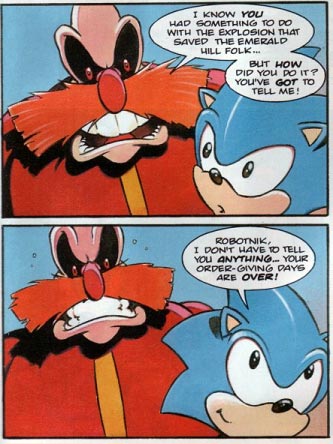 But the Emerald Hill Folk, led by Porker Lewis, had rallied against Robotnik and captured him! Robotnik was baffled, he couldn't understand how the electromagnetic pulse had occurred. Sonic certainly wasn't about to tell him, leading the now-former dictator to seethe in anger! Robotnik defeated, Sonic took command and returned the eggy evildoer to Mobius' surface.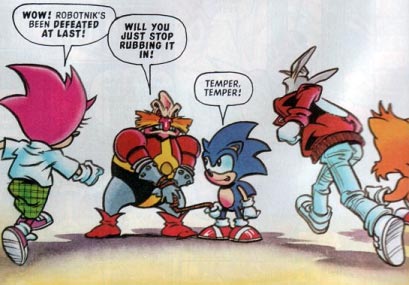 Sonic paraded Robotnik through the streets of the Metropolis Zone as citizens cheered and whooped at the downfall of the tyrant! Robotnik was still boiling with anger, but things weren't done just yet…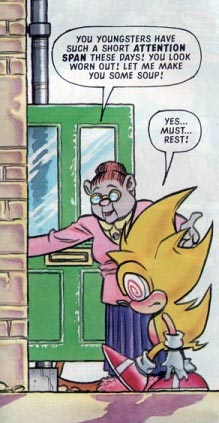 Elsewhere in the city, Super Sonic stumbled around, his memory completely gone. He had no recollection of Robotnik, or even what had just happened… he couldn't even remember his name! He happened upon the home of Madge, a kindly old lady who was very happy Robotnik had been ousted from power. Confused and powerless, Super Sonic took Madge's offer of something to eat. The evil Super Sonic was gone… for now, at least.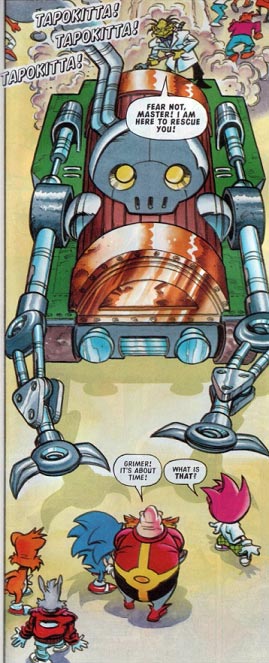 Back with Sonic and his friends, things were about to get a bit weird! Grimer- who had recently done a very poor job of holding off against a citizens' revolution against Robotnik's empire- stormed the streets at the controls of a steam-powered machine! As it used no electric power, this antique robot wasn't affected by the electromagnetic pulse!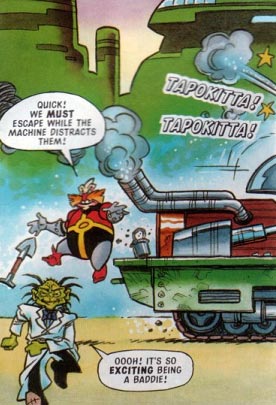 After rescuing Robotnik and freeing him from his bonds, Grimer set the machine loose on the streets of the Metropolis Zone. In the confusion, the two baddies fled while Sonic and his pals were left to deal with the machine and the chaos it was wreaking!

Sonic, for his money, had had enough with robots for one day, especially ones that belong in a museum! With all his might, Sonic obliterated the machine, much to the dismay of a nearby Professor! Though the immediate threat had been dealt with, things were still far from over as Robotnik and Grimer had disappeared. Sonic knew he had to act fast. Fortunately, "Fast" is Sonic's middle name. That's a joke, by the way, don't add it to the wiki.

Scouring the streets, Sonic and his friends come up with nothing in their search for Robotnik and Grimer. They do manage to capture Vermin, but that does little to please Sonic as he worries about his nemesis' whereabouts.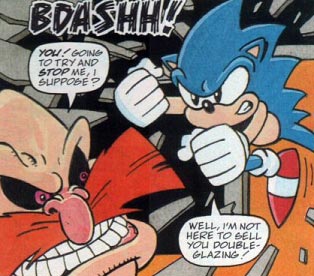 The gang soon figured out that Robotnik and Grimer had taken the only way back into Citadel Robotnik that wasn't being guarded- the sewers! Sonic preferred to take the direct approach, not to mention keep his sneakers clean! Bursting through the wall, Sonic found Robotnik and Grimer trying to manually restart the Citadel's generator, which would have given Robotnik enough of a foothold to rebuild his empire!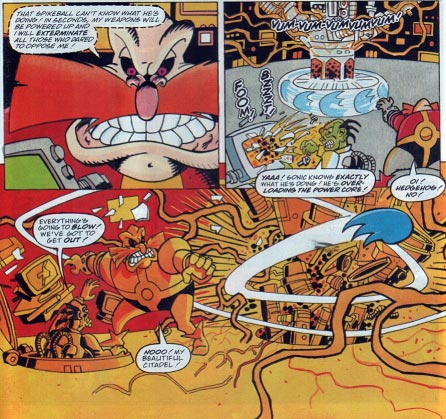 Shoving Grimer out of the way, Sonic took the manual controls of the generator and started spinning the machine up… faster… and faster… and faster! Robotnik thought Sonic didn't know what he was doing and was actually doing their work for them! Grimer, however, had it- Sonic was overloading the power core of the generator! The two baddies had no choice but to escape as Sonic put his plan into action…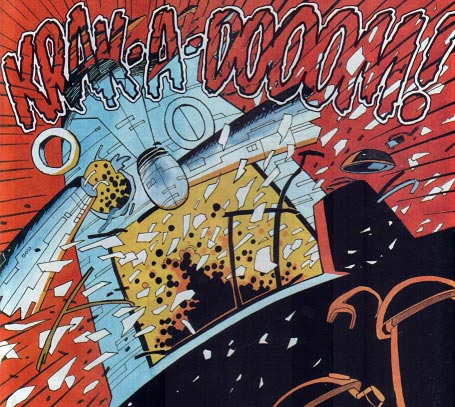 …And detonated the Citadel! In true Sonic fashion, he was able to make a speedy retreat to safety, much to the admiration of his impressed friends.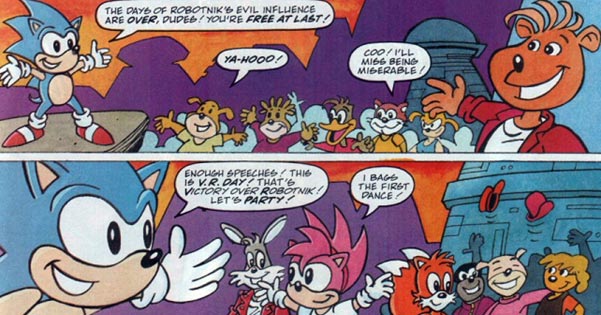 Sonic announced to the gathered crowd that they were finally free from Robotnik! Declaring it V.R. Day (Victory over Robotnik), Sonic led the Mobians in the greatest party they'd ever seen! Elsewhere, defeated, Robotnik swore revenge… but he's never reclaimed Mobius yet!
And that was the end of the evil empire that had ruled Mobius with an iron fist for four years! All bad things, eh, Boomers?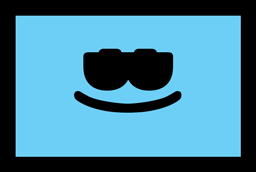 But, you know, Boomers, even though it was the end of Mobius Ruled By Robotnik, it wasn't the end of the adventures for Sonic and his friends. I mean, we're still here some 275 issues later, aren't we?
As for the future? Well, I know I like to tease you guys but Sonic still has plenty of mileage left in him yet. And, I think, so do the Humes. For now, though, let's revel in the fun and excitement of another cracking Sonic victory!
See you next Space-Time!
Download your favourite images direct to your PC, phone, tablet, or Facebook!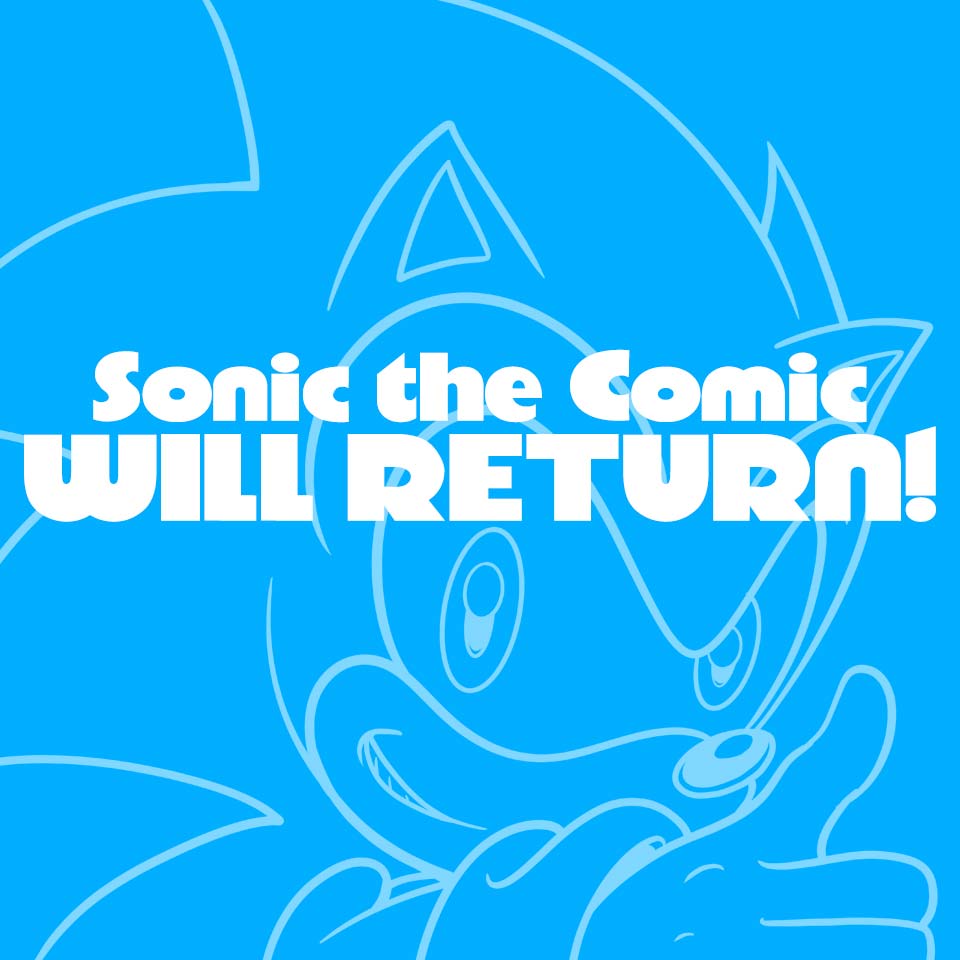 Editor-in-Chief: Michael Corker
Cover by: Michael Corker
Special thanks this issue to:
Michael Corker, Jean-François "Adamis" Thébé, Matt Dittmer, Marcus Stockley, Ernest Panda, James "DarkNoise" Kennedy, Pete Murphy, Chris Gould, Reggie "Ziggyfin" Graham, Matthew Bramble, Zak Simmonds-Hurn, Mauro "The KKM" Fonseca, Clare "MamboCat" Ryan, Michael "Stiv" Stevenson, Rik Mack, Seumidh MacDonald, Charles Ellis, and L.T. Fletcher.
Thank you to the Sonic the Comic team past and present:
Abby Bulmer, Adam "T-Bird" Tuff, Alan McKenzie, Alex Willmore, Andy Diggle, Andy Pritchett, Annie Parkhouse, Anthony Williams, Audrey Wong, A.W. Pitt, Bakasam, Bambos Georgiou, Barrie Tomlinson, Black Dog Brew, Bojan Djukac, Brian Williamson, Caleb Barnes, Carl Flint, Casanovas, Charles Ellis, Charles Wrigley, Chris Gould, Chris Read, Chris Read, Chris Webster, Claire Ryan, Cliff Robinson, Collin Shelbourn, Dane "Blueike" Eichinger, Darren Stephens, Dave Hunt, Dave Windett, David Bulmer, David Gibbon, Dawn Best, Deborah Tate, Dermot Power, Dondie Cox, Drew Middlemas, DragonSteinCole, Ed Hillyer, Ed Reynolds, Elitta Fell, Ellie de Ville, Elson Wong, Ernest Panda, Fast Ashadonic, Ferran Rodriguez, Gary Andrews, Gina Hart, Gordon Robson, Iain "Retro" Stewart, 'Infamatt' Fewer, Insector, J."Deebs" Jones, James "Darknoise" Kennedy, Jamie Botham, Jamie J, Jason McEvoy, Jean-François "Adamis" Thébé, Jim Alexander, Jin Chan Yum Wai, JJ Maudsley, John Aldrich, John Moore, John Swidan, John Taylor, John M Burns, Jon Gray, Jon Haward, Jon Lock, Kate Hayward, Kayleigh Walpole, Keith Page, Kev Hopgood, Kevin M, Kim Sato, L.T. Fletcher, Lauren Willmore, Leeann Hamilton, Lew Stringer, Lisa Lee, Lynne Gibbs, Marcus Stockley, Mark Eyles, Mark Millar, Mark "Sonicmark" Hughes, Martin Griffiths, Matt Dittmer, Matt Harris, Matthew Bramble, Mauro "The KKM" Fonseca, Megadroid, Michael Cook, Michael Corker, Michael "Stiv" Stephenson, Mick McMahon, Mike Hadley, Mike White, Miles Arquio, Modochi, Nadine Wilkinson, Natasha "Calisto" Warmington, Neil Bryant, Neil C. Tamstone, Nick Abadzis, Nigel Dobbyn, Nigel Kitching, Orin, Paul Chamberlain, Paul Shubrook, Pete Murphy, Peter Richardson, Philip Chapman, Rebecca Gunn, Reggie "Ziggyfin" Graham, Rhys ap Gwyn, Rich Morgan, Richard Bird, Richard Burton, Richard Elson, Richard Guildford, Richard Rayner, Rik Mack, Rob Stevens, Rob "The Rascal" Garrett, Robert Frazer, Roberto Corona, Seumidh MacDonald, Shadic, Shaz, Shimsham, Shira, Spark, Stephen Baskerville, Stephen Bliss, Stephen "Spydaman" Davis, Steve Cook, Steve MacManus, Steve Potter, Steve Saywood, Steve White, Stuart Clack, Team Mobius, Thalia Evans, Tim Bollard, Timothy Marx, Timothy Read, Tom Campbell, Tom Frame, Tom Huxley, Una Fricka, Woodrow Phoenix, Yunelyon, Zak Simmonds-Hurn.
Thank you to all of our STC25 backers:
Jacob Joshua Mason, JamesTheBrony/JTB, Joel Haney, Laurie Durham-Muir, Robert Coopland
Adam Tuff, Ade Finch, Alan Dyke aka Tipsy sonic, Alexander Rackow, Ali Finch, Allybee, Andrew Mehta, Audio Sprite, Awdures, Ben Mallinson, Benji Copeman, Blaise Amy Bensley, Bradley McAvoy-James, Charles Ellis, Chris G, Chris Legassick, Ciaran Downey & Danny Rafferty, Claire Ryan, CrimDa, Dan B, Daniel Sneddon, Darren, Daryl Baxter, Dave Luty, David Austin, David Luís, David Lyons, David Seay, Demo E Robotnik, Donna M Evans, Ellie Finch, Elliott Malone, En G., Feniiku, Ferrel Warden, G. E. T., Giles M, Helen Trifourki, Herbert Farrington, Iain McColl, Ian Rodgers, James "AuriJames" Ford, James Came, James Ridler, James Suddes, Janine Fletcher (Mum of a major Sonic fan), Jason Hanratty & David Williamson, Jay Zeach, Joanne Whitworth, Jono!, Joseph West & Imogen 'Mojo' Hackett, Kate Hayward, Kyle Allan, L. T. Fletcher & S. Copeman, Lar and Butler, Layth AL-Najjar, Lee Hiley, Lee Seymour, Leeann Hamilton, Liam 'Tracker_TD' Ashcroft, Lily-rose Beardshaw, Lloyd McLaren, Lord Laret, ManicMakes & Jess, Marcus Stockley, Mark Hughes, Martin DC, Matthew Hall, Michael Corker, Michael 'Stiv' Stephenson and Gina Arthur, Mick Wright, Mike Dobson, Nathan Farnsworth, Neil Kenny & Tom Parry, Nick White, Niki Hutchinson, Owen Rickard, Pasquale Giovanni, Paul Dommer, Pete Murphy, Peter Kimball-Evans and Montague Kimball-Evans, Peter Robinson, Phil Chapman, Phillip Lawton, Rachel/Onikage, Rebecca and Tony Hills-Duty, Ricci Sharman, Rich K, Rich the Echinda, Richie "Super is" Savage, Robert Mooney, Roxanne Speakman, Sarah Turner, Scott Trusdale, Seumidh MacDonald, Stuart Millar, Thalia Evans, The Macho Brothers, The_Guy_Silver, Timothy Kelly, Tom (Okida) Campbell, Tom Carter "Indexsonic", Vince Pavey, Wendy Wood, Will "Ernest Panda" Kemish, William Robinson & James Robinson
Sonic the Comic is copyright © Egmont Magazines Ltd. Sonic the Hedgehog and all related characters © SEGA.
Other characters belong to their creators. Used without permission. Published by the Sonic the Comic online team. This comic is only available on the internet.
Website by Pretty/Confused ©2018.