Hey Boomers!

For the past year, the Humes have been fighting a valiant defensive action at the Eternity Ring to stop Drakon forces conquering Earth. Great and mighty are the songs that will be sung about the Battle of Scunthorpe! But the threat is over, so we're back to making comics!
And kicking things off is the The Ending of Things and the time-bending epilogue, The Burning Of Things! The true secret of Blaze is finally revealed and the fate of Ebony is at risk in these stories, tying off an arc that goes all the way back to #252! Can Sonic save the day or is it all out of his hands?
More's to come as Shortfuse the Cybernik and his gal-rilla pal Niya delve deep into the Wreckage of old schemes, looking into just who has a seemingly dead Badnik factory up and running. And if that's not enough, you want more? How about Mobius making one last, desperate push to stop Robotnik and end the war?! No hoax, no jokes, no simulations of Death Egg's zapping Tails this time – it's total war!
Do you even need a Flashback Zone or wallpapers? Well, we love you so much you have them anyway! Yes, even you.
If it all looks like we're tying things off, boomers, that's only because #275 is bearing down and with it, everything we've done over the years comes to end. And then… Well, just wait and see, boomers!
Oh, and some of you may have noticed a little video game being released this week called SONIC MANIA? Hopefully you can all drag yourselves away from your console of choice long enough to check out the return of the Review Zone where a few of the humes give their thoughts on Sonic's latest 2D outing!


Noticeboard
If you lot have been enjoying our favourite blue hero's latest TV outing, Sonic Boom, as much as we have, then you may have already noticed that it's mysteriously disappeared from the airwaves in recent months…but fear not, dear boomers: the show isn't gone, it's just moved to a new home!
At time of writing, the hit show can now be streamed on Netflix for your viewing pleasure! Don't have a Netflix subscription? Well then the DVD releases have got you covered, as you can now purchase the entire first season across 4 comically action-packed volumes, how awesome is that?!
And that's not all! A little Flicky tells us that SEASON 2 will be arriving in the UK in the (hopefully!) not too distant future! *phew* all this excitement is enough to make a poor old droid short out their pleasure circuits! Anyway, we'll be sure to keep you loyal boomers up to date with any further news.
(…yes, Sticks, I'm positive the Flicky is not a double agent.)
The Story So Far…
As Mobius defends itself against the might of both Robotnik and the Drakon Empire, the Freedom Fighters continue to protect the planet on all fronts!

Sonic
Blue blur Sonic is the numero-uno hedgehog with attitude, boasting both lightning fast speed and wise cracks for every situation – he'll need both to save Ebony from the mighty Order of Magic!

Blaze
Fiery feline Blaze was held prisoner by The Order of Magic during her quest to stop something called "the burning" – Now that she has escaped and found the hidden vaults of The Order, will the pussycat's prophecies come to pass?

Ebony the Cat
Mystic moggy Ebony is on trial by the Order of Magic for misuse of her powers, after trying to "fix" Super Sonic. Having been found guilty and facing full magickal extraction, things are not looking good!
See the rest of the Data Zone! (click here)

The Order of Magick

A powerful society governing magic itself, these secretive sorcerers have used their powers to call Sonic as a witness for Ebony's crimes, but they might actually have bigger problems to deal with soon…

Shortfuse

Short-tempered Shorty the Squirrel is better known as his heroic alter-ego "Shortfuse," who defends Mobius whilst wearing a special suit of armour, now assembled from broken badniks!

Niya the Gorilla

Passionate Guerrilla fighter Niya works alongside Shortfuse as part of a rag-tag group of Mobians, salvaging scrap from defeated badniks to forge new technology in the fight against Robotnik!

Tails

Flighty fox Tails has learnt a lot as part of the Freedom Fighters but now, with both Sonic and Amy currently M.I.A, it's up to the twin tailed hero himself to lead the remaining heroes of Mobius in the war with Robotnik!

Free Mobius Supreme Command

A council of leaders in charge of Mobius' defences against Robotnik. Commander Steele from G.U.N, Zonerunner Sab, Detective Dunzi from the Hilltop Zone, a member of the ancient Underwater Outpost and Metropolis Zone Police Chief Bodger need all the help they can get!

Knuckles

Guardian of the Floating Island, knuckles is the last in a long line of Echidnas protecting the powerful Chaos Emeralds – When extra muscle is called for, his spiky fists pack a powerful punch!

Silver

Time traveling Hedgehog Silver has the power to move objects with his mind and a mission to protect Mobius from his own "bad future" coming to pass!

Shadow

A living computer program created to defend cyberspace, this stream of code was given a familiar hedgehog shaped avatar thanks to a digital wizzkid, Iggy the Mouse!

Doctor Robotnik

Crazed genius Robotnik was transformed in a lab accident from kindly kintobor into a power mad dictator! The Drakons connected Robotnik's mind to a supercomputer in order to take over the planet, but their control over the doc is breaking down…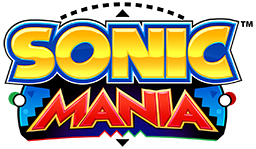 ---
Available on: PC, Xbox One, PS4, Switch
Game Type: Platformer
Players: 1-2
Publisher: SEGA
Price: £15.99 – £74.99
Sonic Mania was released just released, boomers! We thought we'd ask some of the STC team who have been lucky enough to play it already what they thought of the latest addition to 2D Sonic titles.
Jean-François "Adamis" Thébé
Sonic Mania is everything you expect from a 2D Sonic game : pixels, pinball physics, fun, impressive gameplay, fun, fun, fun… and it even has 3D Special Stage too, giving the game the "Saturn Sonic game we should have had" feel. Plus, there are lots of surprises for fans of the 8-bit games, and even a few cameos…
Sonic Mania is a real treat and will certainly feature in lots of people's "top Sonic games" lists.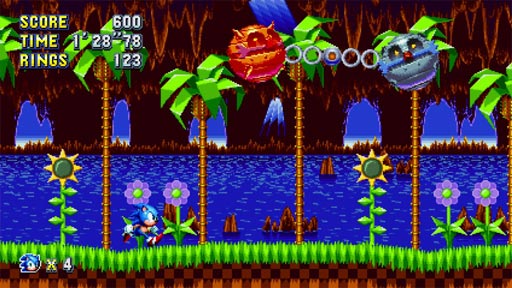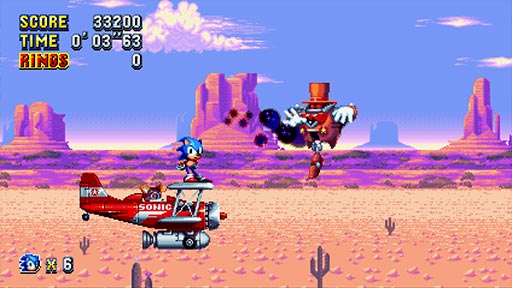 Adamis also created this excellent piece of Sonic Mania art: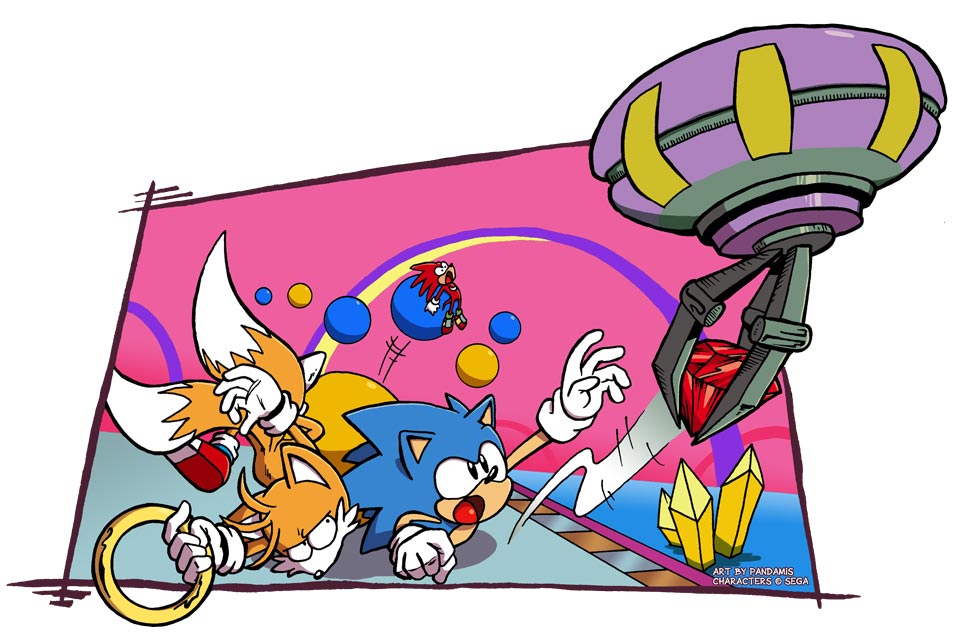 Ernest Panda
The new zones that fit so snuggly into the classic Sonic formula that you'd be forgiven for thinking they'd been there all along, and the old zones that are filled with brand new twists that make them worth visiting again, even if you already sped through them on the Mega Drive back in the day! The attention to detail and callbacks to even some of Sonic's most obscure outings-handled so subtly that they don't feel rehashed-make for a game that invokes the sweetest nostalgia.
Sonic Mania is truly a labour of love I'd recommend to any fan old and new, as well as any gamer in general looking for a great time."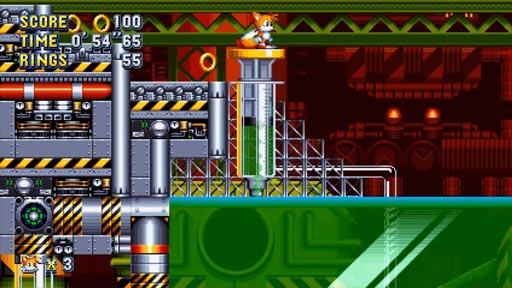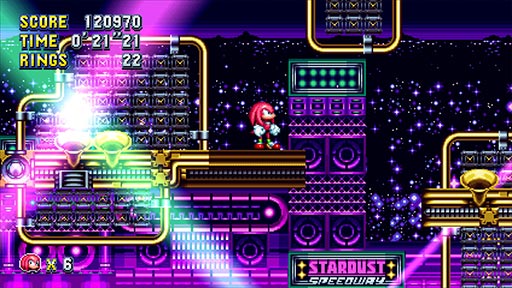 Michael Corker
Sonic Mania is a gorgeous homage to the classic 2D Mega Drive titles and it feels just like a collection of zones and ideas that SEGA didn't have time to add to S3K all those years ago.
The game plays just like I remember the originals did, but updated and augmented and sharper than ever. The team who created this wonderful game clealy show a deep love for the franchise and an understanding of what made those early games so special.
From the level design, boss battles, and soundtrack – everything feels just right – like I've been transported back to the 90's (but without the terrible fashion!).
I can't wait to see what they do next!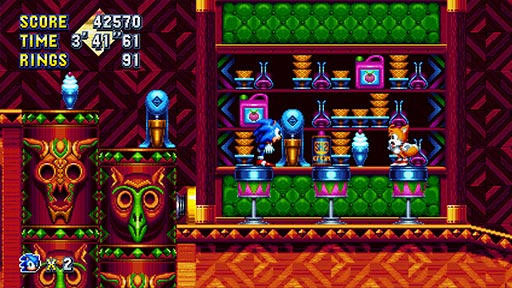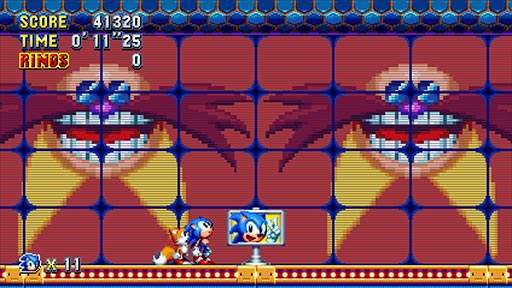 Be sure to check out a few more Sonic Mania inspired wallpapers in the Pinup Zone, boomers!
What did you think of Sonic Mania? Tell us in Speedlines!
Final Countdown!
Raves

Fantastic music!
Hours of fun!
The new zones are excellent additions to the classics!

Graves

Not enough new zones.
Save game system could be updated further.
Playing as Tails can make some levels too easy.
| | |
| --- | --- |
| Graphics | 96 |
| Sound | 89 |
| Playability | 97 |
| Overall | 93 |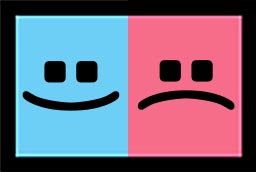 Wotcher, Boomers! Don't be surprised, it's still me, I'm just setting up a theme for this issue's Flashback Zone!
Now, I thought since we have Ebony and Blaze in this issue, there was a bit of a magical thingy going on- and I wanted to show you all that not every magic user in STC is a likable, strokable kittycat!
To that end, let's have a look back at a tale from Sonic's adventures in Shanazar…
STC #154: Desert Storm
Script: Lew Stringer
Art: Richard Elson
Lettering: Elitta Fell
Flashback Zone Report Filed by: L. T. Fletcher
Added to Omni Viewer's Data Banks by: Michael Corker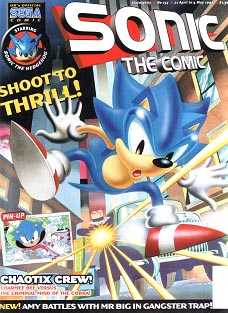 Sonic found himself in the Desert of Eternity on the microscopic world of Shanazar where, for one mission, he served as chaperone to a group of children- not long before Robotnik showed up! But we aren't here for Robotnik today. Getting the kids away from danger, Sonic managed to get separated from the rest of the group and caught in a sandstorm. Though he tried valiantly to retain consciousness, Sonic blacked out in the middle of the storm. Soon after it settled, a worrying duo found Sonic's slumbering body and hauled him away…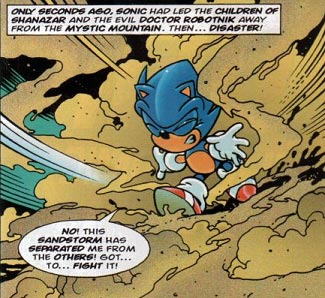 Sonic awoke in a prison cell, along with a group of Shanazarian slaves! He'd been brought to Kullconan Town as a slave! Sonic wasn't exactly going to take that sort of behaviour lying down, so did what he does best- rescuing people! Blasting a hole in the side of the cell, Sonic set about freeing the slaves, but was warned about the Scimitar Brothers. Never one to understand dramatic irony, Sonic enquired as to the identity of the brothers and, as I'm sure you can imagine, was introduced to them in a very physical way as a result…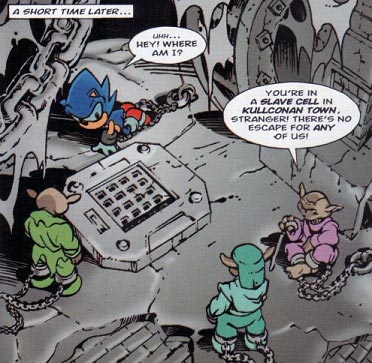 To Sonic's astonishment, the Scimitar Brothers- R'zor and Blunnt- were conjoined! This meant Sonic had to fight a foe with twice the arms, twice the size, twice the strength and twice the bloodlust! Luckily for our heroic hedgehog, however, they only had half the brain that he did!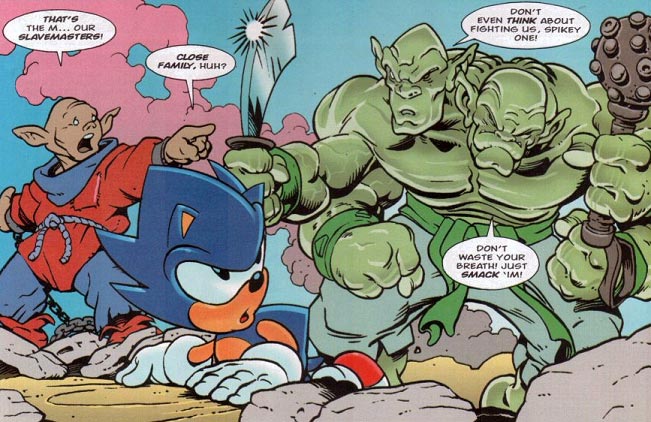 R'zor and Blunnt managed to distract themselves with their squabbling- it seemed they didn't particularly care for sharing a body! Sonic saw his opportunity to attack, but he couldn't risk a head-on confrontation unless he particularly wanted to get whalloped. Using his quick thinking, Sonic hit upon an idea owing to the events of earlier that day…
Sonic used his tremendous speed to whip up a sandstorm of his own creation! The brothers were left in a spluttering heap but, ultimately, had to yield to Sonic. However, our hero didn't have long to relax as the terrible sorcerer who had joined the Scimitar Brothers together, Kurse, made his appearance!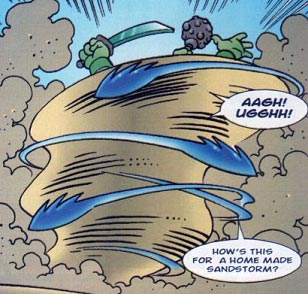 Kurse was an incredibly powerful sorcerer and Sonic found himself unable to attack, trapped as a result of one of Kurse's incantations. Thinking on the ball, Sonic promised the Scimitar Brothers that if they helped him to beat Kurse, he would return the favour by forcing the wicked wizard to separate the brothers. The plan initially worked as Sonic was freed by the brothers, but Kurse turned the tables on them by inflicting an excruciating torture curse upon them!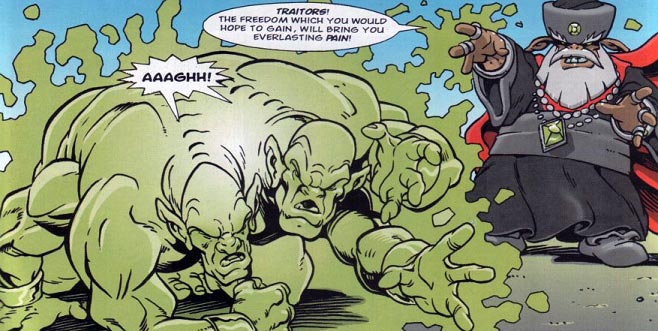 The moment's distraction was all Sonic needed! Realising Kurse couldn't use his magic if he couldn't cast his incantations, Sonic used his superior speed to shut the conceited conjuror up! Realising there was no way he could outspeed Sonic, Kurse submitted. He offered his services to Sonic- true to his word, Sonic ordered Kurse to revert the Scimitar Brothers to normal, free the slaves and then (and I'm quoting here) get lost! With the trouble over, Sonic got back on the road… the only problem was, he had no idea where he would end up next on this strange planet…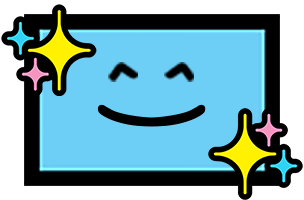 So, what do you reckon, Boomers? I feel like giving the old magic gig a go myself! Let's see if I can summon up a sneak preview of what's in store next issue…

A metal-clad squirrel goes it alone…
That's what's coming in the next Flashback Zone!

See you next Space-Time!
Download your favourite images direct to your PC, phone, tablet, or Facebook!
Editor-in-Chief: Michael Corker
Cover by: Reggie "Ziggyfin" Graham
Special thanks this issue to:
Clare "MamboCat" Ryan, Charles Ellis, Chris Gould, Ernest Panda, James "DarkNoise" Kennedy, Jean-François "Adamis" Thébé, L.T. Fletcher, Mark "Sonicmark" Hughes, Matt Dittmer, Michael Corker, Tom Campbell, Pete Murphy, Reggie "Ziggyfin" Graham, Shira, and the rest of the STC team!
Sonic the Comic is copyright © Egmont Magazines Ltd. Sonic the Hedgehog and all related characters © SEGA.
Other characters belong to their creators. Used without permission. Published by the Sonic the Comic online team. This comic is only available on the internet.
Website by Pretty/Confused ©2017.