Hey Boomers!
Boomers, there goes the sun (doot'n doodo). And I say it's alright, because Sonic The Comic is here to shine all the same! This issue sees four stories including three tales of- urm- Tails! The Hero of Mobius (or should that be Acting Hero of Mobius?) has his work cut out for him as he faces an assault from all fronts, new and old.
Summer may have drawn to a close but so too must STC's biggest event of 2015 as Unleashed reaches its thrilling climax! As Super Sonic's power amasses and reaches critical levels, it's going to take every hero Mobius has to offer to do their part to save the day. Fortunately, that's exactly who we have standing between the demon of destruction and Mobius' annihilation!
Assuming we're still around after that rampage, Tails has to meet a whole bunch of new heroes. First, he has a run-in with one Marine the Raccoon in a Small-Screen Scream! After that, Tails teams up with Holly to come face to face with a War Machine!
And as if that wasn't good enough for you (some folks are so ungrateful), Amy takes the centre stage in a story of her own that is sure to knock your socks off! Oh and we have the usual lovely selection of wallpapers.
Unleashed might be concluding this issue, Boomers, but as we now race in earnest towards the astonishing, Mobius-shattering issue #275, the action shows no sign of slowing down.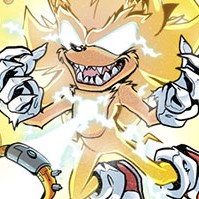 The Story So Far...
Run for your lives! Super Sonic has been unleashed and nowhere is safe from his rampage! Will the heroes of Mobius save the usually cool blue one from himself?
Now read on…

Super Sonic
The berserker alter-ego of Sonic the Hedgehog has taken over and has now absorbed the power of the grey Emerald itself – could things get any worse?

Amy Rose
Amy is the butt-kicking Freedom Fighter who thought she'd lost her closest pal Tekno when they fell out of touch before the war… Amy had given up hope of ever seeing her again, until…

Tails
Once merely the 'pixel-brained' sidekick of Sonic, high flyer Tails is now the prime hero of Mobius! But he'll need all the help he can get in the fight against Robotnik!
See the rest of the Data Zone! (click here)
Knuckles
Knuckles is the last in a long line of Echidnas and is usually found defending the mighty Chaos Emeralds up on the Floating Island – right now, the current threat is angry, yellow and spikey!
Silver the Hedgehog
Future Freedom Fighter Silver the Hedgehog has travelled back 70 years into his past, to defeat Super Sonic – is he too late to stop history repeating?
The Chaotix Crew
A team of dysfunctional superheroes from the Special Zone who used the time and space warping Omni-Viewer to join the battle with Super, only to become trapped by the evil hedgehog's trickery! Is it too late for them to save the day?
Tekno
Tekno the Canary was the Freedom Fighter's gadget guru, with an invention for every occasion and a great friendship with Amy Rose. Then suddenly, she disappeared from the life she knew, and by the time she made it back home, everything had changed…
Holly Thumpfoot
Holly is the upbeat, hoppy-go-lucky team member of the Ultimax, although even her positivity is being tested in these uncertain times!
Marine the Raccoon
Star of her own TV series, Marine: Badnik Hunter, this feisty young lady has been making quite a scene lately, smashing robotic threats left and right! As her second series rolls around, Marine's star shines ever brighter…
Doctor Ivo Robotnik
He's big, he's round, he's known for miles around; this evil scientist is a former planetary dictator- and he wants his world back!
Download your favourite images direct to your PC, phone, tablet, or Facebook!
Editor-in-Chief: Michael Corker
Cover by: Michael Corker
Special thanks this issue to:
Stephen "Spydaman" Davis, Thalia Evans, Jean-François "Adamis" Thébé, James "DarkNoise" Kennedy, India Swift, Michael Corker, Pete Murphy, Chris G, Dane "Blueike" Eichinger, Claire "MamboCat" Ryan, L.T. Fletcher, Ernest Panda, Tom Campbell, Charles Ellis, and the rest of the STC team!
Sonic the Comic is copyright © Egmont Magazines Ltd. Sonic the Hedgehog and all related characters © SEGA.
Other characters belong to their creators. Used without permission. Published by the Sonic the Comic online team. This comic is only available on the internet.
Website by Pretty/Confused ©2018.