Hey Boomers!
Where has everyone's favourite comic been? Boomers, never let it be said that those troublesome humes can run the show without me, as they found out when they played a prank that went wrong at their April Fools' "Fake Christmas" Party. Check it out in my exclusive movie. Droids and humes of a sensitive disposition, steer clear! Don't worry, I'm all back together now and ready for action.
But while the humes were wondering who was going to order their cheese and pickle sandwiches, Sonic the Comic Online was awarded second place on the best online comic category in the Diamond National Comics Awards – as voted for by comic guys and 'bots around the world. Me and the rest of the humes would like to thank everyone who voted.
All right, I know you want to know what's going on! First up, it's a stroll down memory lane for Sonic and his friends as he visits the ruins of the Death Egg. Meanwhile, our two-part Knuckles story concludes in style. Plus Hume Stu Gibb is flexing his itchy thumb fingers with another fab Review, and there's a selection of splendid pin-ups for you.
Sharp-eyed humes will already have noticed that Speedlines has moved to its new home in the Message Zone. Don't forget to drop me a line there or using my old e-mail address and then look out to see if you're one of the first people to have a message featured in the new Speedlines. Enjoy the summer, Boomers, and remember: stay cool!

The Story So Far…

For years, the evil Doctor Robotnik ruled Planet Mobius. With his Troopers and robot slaves, he terrorised the population. Eventually, Sonic and the gang defeated Robotnik and freed the planet.

Sonic
Sonic is the super-fast hero of Mobius, and leads a gang of freedom fighters. He is totally committed to keeping Planet Mobius and its people safe.

Amy Rose
Although Amy first met Sonic when she was claiming to be Sonic's girlfriend, she has since proved a hero in her own right with her trusty crossbow. She has a wicked sense of humour and loves winding Sonic up!

Tails
Tails is an optimistic young fox who uses his two tails to fly for short periods. He idolises Sonic but has also become a respected hero in his own right – if only Sonic would notice!
See the rest of the Data Zone! (click here)

Dr. Robotnik
A laboratory accident long ago turned the kindly Professor Kintobor into the evil Doctor Robotnik! Now muted and driven mad from years of defeat, Robotnik has been rescued from his asylum…


Knuckles
Knuckles is the sole guardian of the Floating Island and its powerful Chaos Emeralds. He is willing to do whatever it takes to keep the Chaos Emeralds safe.

Tikal
A seer who from the past. Tikal's memories were repressed by a magic spell to stop her going mad from the time she spent trapped with Chaos.

Big the Cat
A good-natured cat who discovered Chaos and re-named him Buddy. Now, he and Buddy have come face to face with the ghosts of Haunted Hill.

Buddy
A former Prosecutor soldier that was caught in an explosion of the Chaos Emeralds that turned him into the terrifying Chaos creature. He lost his powers suddenly to Super Sonic and is now fighting to get them back.

Porker Lewis
Although he was once the technological whiz of Sonic's gang, Porker lost his nerve after being held hostage on an alien planet for a month.

Rouge the Bat
A masterful thief who is also a member of the Syndicate. She is crafty, deceptive and incredible dangerous — and now has Porker Lewis hostage.

---
Available on: GameBoy Advance
Game Type: Platform
Players: 1-4
Publisher: SEGA
Price: £24.99 – £29.99
Reviewer: Stuart Gipp
Following on from the massive success of Sonic Advance and its sequel comes this new game, soon to be devouring the time of young and old gamers around the world.
This time around, Sonic and friends are trying to prevent the dastardly Dr Eggman from using the Chaos Emeralds to create "Eggmanland". This is all revealed in text at the start of a new game, although the plot doesn't develop as the game expands. Dr Eggman has also teamed up with a robot named Gemel who appears to be a Gizoid, as seen in Sonic Battle.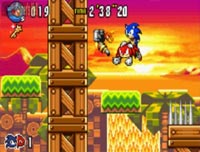 Sonic Advance 3 retains both the speed and sprawling levels of Advance 2 and the gentle platforming of the first game to create a handheld Sonic experience on a par with the best of the Megadrive titles. All the familiar elements are in place: loops, speed boosters, springs and rails – plus a few new gameplay additions for good measure.
The most notable of these is the new dual-player system. The player can pick two characters to use and take advantage of their "tag action". These can include jump boosts (Amy and Cream), a projectile attack (Sonic and Knuckles) or even a great big hammer (Amy and Knuckles)!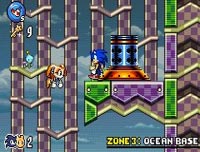 The stages include entertaining new levels such as the colourful and tricky Toy Kingdom, and are cleverly designed so that they can be beaten without using tag action, but yield many more secrets when two friends combine their talents. The speed is still astounding at times and the unique charisma of the Sonic titles is present. The bosses have been overhauled from the previous game and take place in an arena rather than a chase scenario.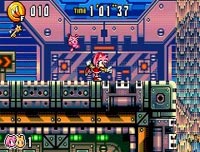 The acts are accessed through "Act Rings", which are placed in a hub level. These hub levels are accessed from the "Sonic factory", where it's possible to view Chao and change characters. The hub levels are actually rather pedestrian and take the pace away from the game, but they do add much-needed variety with a couple of entertaining minigames.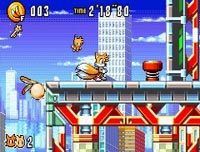 This Sonic game is far more difficult than its predecessors, and will keep you playing for a good long while. The levels are vast and complex, with many routes, tougher bosses, and more obstacles to keep you playing for a long time. The controls are also excellent, although this time Sonic's shield attack is performed by pressing A then B, instead of just A twice. In short, this game is a hard nut to crack, but worth it.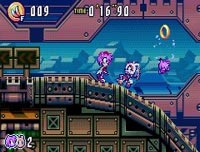 The Tiny Chao Garden has been scrapped, but fear not, Chao lovers! The cute little critters are still in abundance, this time hidden within the acts themselves. Finding all ten Chao in a zone will grant you a key, which can be used to access the special stage of that zone.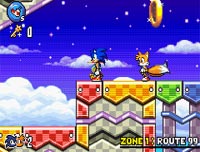 Graphically, this game is similar to its predecessors, though the slowdown has been virtually eliminated. More worthy of note is the fabulous music, some of the most atmospheric music to be found in any handheld game. Sonic and his friends have also been given voices, though thankfully they don't get too irritating.
Sonic Advance 3 is a more than worthy addition to an already great series. You won't regret purchasing it, so why not treat yourself?
Final Countdown!
Raves

Brilliant Levels!

Graves

Pace flounders in hub stages.
| | |
| --- | --- |
| Graphics | 88 |
| Sound | 96 |
| Playability | 95 |
| Overall | 94 |
Download your favourite images direct to your PC, phone, tablet, or Facebook!
Editor-in-Chief: Michael Corker
Cover by: Zak Simmonds-Hurn & Chris Gould
Special thanks this issue to:
Ed Reynolds, James "DarkNoise" Kennedy, Michael Corker, Matt Harris, Stuart Gipp, and the rest of the STC team!
Sonic the Comic is copyright © Egmont Magazines Ltd. Sonic the Hedgehog and all related characters © SEGA.
Other characters belong to their creators. Used without permission. Published by the Sonic the Comic online team. This comic is only available on the internet.
Website by Pretty/Confused ©2017.